please scroll down for english version :)
Beim Stempelmekka habe ich unter anderem Brusho-Pulver gekauft. Das sind Pigmentpulver, sehr ergiebig, sehr bunt und sehr färbefreudig. ;)
Bei Dani Peuss gibt's eine nette Übersicht, was genau Brusho ist und was man damit anfangen kann.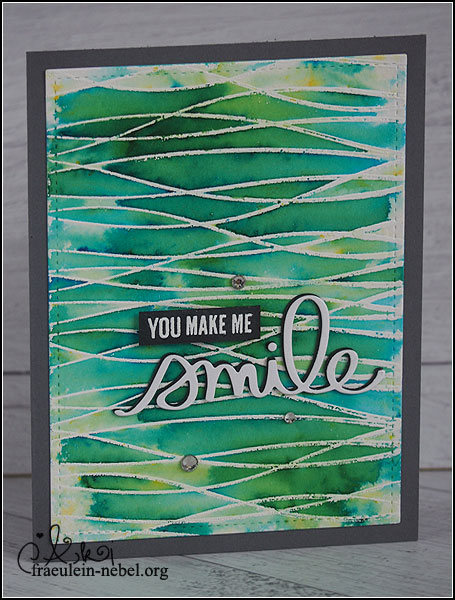 Den Hintergrund – übrigens sollen das Luftballon-Schnüre sein – habe ich auf einem Stück Aquarellpapier weiß embosst.
Auf das trockene Papier habe ich die Brusho-Pulver gegeben; durch ein kleines Loch im Deckel funktioniert das wie mit einem Salzstreuer. Das Pulver habe ich mit einer Sprühflasche mit Wasser benetzt. Wenn die Pulver nass werden, vermischen sie sich und geben ihre Farbe ans Wasser ab. Die embossten Linien halten das Wasser ab, so entstehen kleine Farb-Seen. Das ganze habe ich an der Luft trocknen lassen, natürlich hätte man aber auch mit einem Heißluftföhn nachhelfen können.
Das getrocknete Panel habe ich durch die BigShot gekurbelt und durch die passende Stanze einen dekorierten Rand erhalten.
Ebenfalls mit der BigShot wurde mehrfach das Wort "smile" gestanzt, die einzelnen Schriftzüge habe ich mit Flüssigkleber aufeinander geklebt. Ursprünglich wollte ich den weißen Schriftzug unten haben, aber.. ein weißer Schatten? Außerdem hat sich das Weiß gar nicht gegen den embossten Hintergrund abgehoben und ging ziemlich unter. Also doch schwarz nach unten, sah besser aus. Den Rest vom Text habe ich aus zwei Stempelsets zusammengestückelt und ebenfalls weiß embosst.
Aufkleben, ein paar Glitzersteinchen dazu – fertig.
english version
Two weeks ago I went to a stamping fair called "Stempelmekka" in Germany. I bought lots and lots of stuff there – and I finally got some Brusho! You might know these, it's a watercolour powder. You get plenty of powder in one jar and the colours are just amazing. :)
I heat embossed the background in white on some watercolour paper.
Then I sprinkled some of the powder on my dry paper. I poked a small hole through the lid of the Brusho containers so it works like a salt shaker. :D I added some water with a spray bottle – and then the magic happened. The powder dissolves in the water and the colour bleeds into it. The embossed lines resist the colour and keep the water in place, so you get puddles of colour.
If you are impatient feel free to use a heat gun to speed up the drying process – I just let it air dry.
I cut the dried panel with my BigShot and gave it a stitched edge and also cut out the word "smile" three or four times and glued them together. I wanted the white sentiment under the black one but I did not like how it looked. (Also, a white shadow? Nah.) I glued the stacked piece in place and heat embossed the rest of my sentiment.
For a last finishing touch I added some gem stones – and the card is done.
Material
Papier: SU! "antrazit", Aquarellpapier, schwarzer Cardstock
Tinte & Farben: Brusho "sea glass", "emerald green", "turquoise", Versamark Ink
Stempel: Wplus9 SSS "you", "sending and wishing", MFT "balloon strings"
Stanzen: Mama Elephant "smile script", lawn fawn "stitched rectangles"
Sonstiges: Falzbein, Fiskars Schneidbrett, BigShot, EK Success Tweezers, Tombow Mono/Multi Glue, Ranger Mini Mister, SU! "Basic Straßschmuck", Hero Arts Embossingpulver "white", SU! Embossingbuddy