please scroll down for an english version

Mein Vater hat eine Karte geordert. "Eine besondere, ausgefallene, datt dollste waste je gemacht hast. Mach mal. Wird schon."
Für meine Mutter, zu einem besonderen Hochzeitstag.
Mhm. Ja, es wurde. Aber im Nachhinein, gerade wenn ich mir das Foto nochmal ansehe, ist es definitiv nicht das dollste beste was ich je gemacht habe. Ich würde viel anders machen, wenn die Karte nochmal zu machen wäre.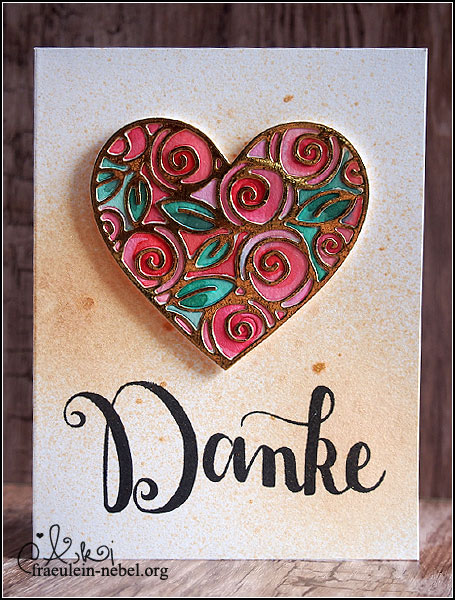 Die Base habe ich mit goldenem Schimmerspray eingenebelt, gibt einen schönen Effekt.
Der Text wurde gewünscht, "Danke" und bitte in deutsch. Gestempelt wurde über das Goldspray, deshalb glitzert der Schriftzug mit dem Herz.. naja, nicht um die Wette, aber er glitzert. Zum Stempeln habe ich – Gott sei Dank! – mein MISTI benutzt, der erste Abdruck war alles andere als schön. Mit dem MISTI konnte ich einfach nochmal auf die selbe Stelle stempeln und das Problem war gelöst!
Das Herz wurde zweimal mit der BigShot gestanzt, einmal aus Aquarellpapier und ein zweites Mal aus gold-foliertem Druckerpapier. Das Aquarellherz habe ich mit Distress Ink bearbeitet und das goldene einfach drüber geklebt. Das Herz ist übrigens nicht ganz gold, die Folie greift nicht überall auf dem Toner. Eventuell druckt unser Drucker ungleichmäßig, aber es sieht okay aus.
So, das fertige Teil wurde mit Abstandskleber aufgeklebt um dem ganzen mehr Tiefe zu geben.
Was würde ich anders machen. Speziell für dieses Projekt hätte ich mir ein paar neue deutsche Stempeln kaufen sollen, unter anderem ein dezenteres "Danke". Die Proportionen hätte ich auch anders gewählt, Herz mehr in die Mitte und dann ein kleinerer Text versetzt dazu, eventuell auf Höhe der Herzspitze?
Mal sehen, vielleicht baue ich das Teil nochmal nach. Einiges gelernt habe ich beim Werkeln und Folieren, das ist doch mal was. Und gefallen hat die Karte am Ende auch.


___________________________________________
My dad ordered a card. "A special one, extravagant, the best one you've ever made. Just do it, I know it will be fine."
It is for my mother, for a special wedding anniversary.
Well. So I created a card. In retrospect, while looking at the photo, I realise that it's definitly NOT the best one I've ever made. I would change a lot if I had to re-do the card. :eew:
I coated the base with some golden shimmer spray. Then I stamped the black sentiment over that, that's why it's shimmering as well. Not as much as the heart, but it serves it purpose.
Good thing I used my MISTI to stamp the sentiment! The first try did not turn out nice but with the MISTI I was able to just stamp again, right on top – problem solved!
The heart die went through the BigShot twice – one time with watercolour paper, the second time with gold-foiled printer paper. I coloured the watercolour paper heart with some Distress Inks and glued the gold one in place. The surface of the golden heart is not completely covered with gold foil – I guess our printer did an irregular job there – but it looks just fine.
I taped the heart in place with some 3D foam to give it some dimension.
So, what would I do differently?
First of all, I should have bought some new german sentiments, including a more discreet "Danke"-stamp (translate "thank you"). I would change the proportions as well – maybe tape the heart more to the center and add a small sentiment next to it.
I might eventually rebuild this card, we'll see about that. I learned quite a lot in the process (especially foiling) though, so that's a good thing. And my parents liked the card after all – that's whats important.

Material
Papier: Papertrey Ink CS "white", Aquarellpapier, Druckerpapier
Tinte & Farben: Versafine "onyx black", Hero Arts Metallic Shimmer "gold", Ranger Distress Ink "picked rasberry", "abandoned coral", "festive berries", "evergreen bough", "cracked pistachio"
Stempel: Create A Smile "ein riesiges Danke"
Stanzen: SSS "heart of roses"
Sonstiges: Falzbein, Fiskars Schneidbrett, BigShot, BigShot MetalShim, Papierschere, ThermOWeb Decofolie "gold", Laserdrucker, Laminiergerät, Pinsel & Wasserglas, Tombow Mono-Multi Glue, SSS 3D Foam
Vielleicht gefällt dir noch einer dieser Artikel?