please scroll down for english version :)
Ich habe vor kurzem mal wieder eine Easel-Karte gewerkelt. Ich finde die recht praktisch, wenn viele Leute eine Karte schenken und es viel Platz für Unterschriften braucht.
Eine Easel-Karte wird auf eine bestimmte Weise gefaltet und kann dadurch entweder flach zusammengeklappt oder aufgestellt werden.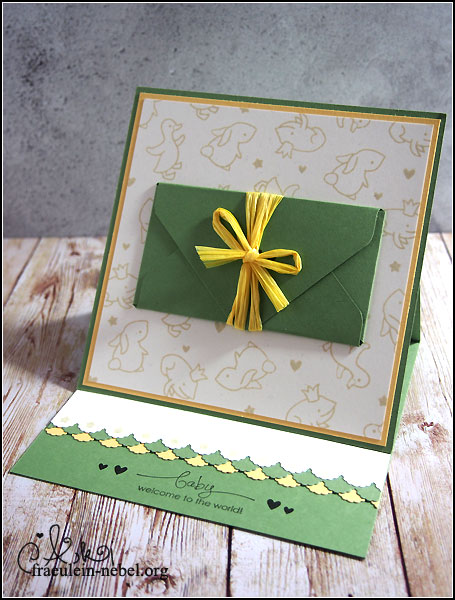 Bei Splitcoaststampers gibt es eine Anleitung, sofern ihr mal eine werkeln wollt.
Farblich wurde "neutral" gewünscht, also habe ich grün, gelb und vanille genommen. Die gleichen Farben habe ich übrigens auch bei der letzten Babykarte verwendet.
Weil mir das vanillefarbene Panel nur mit Umschlag zu fade war, habe ich noch ein paar Tiere drauf gestempelt.
english version
A few days ago, I made an easel card. They are perfect when you need lots of space for a bunch of signatures.
If you want to create an easel card yourself, you can find a nice tutorial over at splitcoaststampers.
I was asked to create one more baby card, and to "make it gender neutral, please!". So I choose some pastel green and yellow in combination with vanilla. While I really liked the vanilla, it looked a bit plain, so I stamped some critters on that panel to add more interest.
Material
Papier: SU! "vanille pur", "safrangelb", "wasabigrün"
Tinte & Farben: Ranger Distress Ink "antique linen"
Stempel: lawn fawn "hello baby", SU! "a word for you"
Stanzen: –
Sonstiges: Falzbein, Fiskars Schneidbrett, Acrylblock, dm Paradies Kleberoller