please scroll down for english version :)
An der Entstehung dieser Karte ist die Shui schuld. Shui, ihres Zeichens größter mir bekannter Sushifan, twittert regelmäßig über ihren Sushihunger. Und Fotos vom dann georderten Sushi. Ich bin jedes Mal ein wenig neidisch, weil Sushi ist halt schon geil.
Eines Abends kam eins zum anderen: das Stempelset lag auf dem Tisch, Shui twittere über Sushi.. und dann war die Idee da. ;) Das Set habe ich übrigens hier schonmal benutzt. :)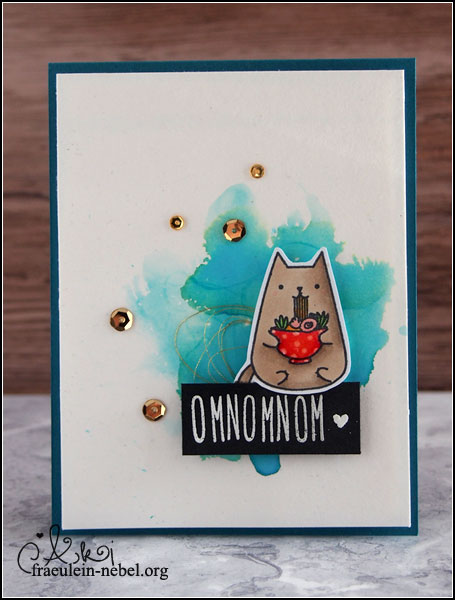 Für den Hintergrund habe ich das erste Mal Distress Oxides benutzt, hier mit der Smooching-Technik. Die Tinte wird dafür auf ein Stück Plastikfolie gegeben, mit Wasser bespritzt und auf Aquarellpapier gedrückt. Wenn man möchte, kann man die Folie noch etwas bewegen, das sorgt für coole Farbverläufe.
Trocknen kann das Papier entweder an der Luft oder man hilft mit einem Heißluftföhn nach; ich lasse meistens an der Luft trocknen.
Die Katze aus dem Set "NOM NOM KITTIES" habe ich mit Copic Markern coloriert und dann von Hand ausgeschnitten. Den Text habe ich mit Versamark gestempelt und weiß embosst. Beide Teile sind mit 3D-Klebepads aufgeklebt, die halten praktischerweise auch den Goldfaden an Ort und Stelle. Um noch etwas mehr Gold ins Bild zu bringen, habe ich ein paar goldene Pailletten verstreut und mit Glossy Accents aufgeklebt.
english version
My friend Shui is to blame for the creation of this card. She's the biggest sushi lover I know and she often tweets pictures of food she just ordered. Sometimes, I get a bit jealous too, because – you know, sushi is awesome.
One evening, one thing led to another, she tweeted about her food while I had the stamps on my table.. ;)
For the background, I used my new Distress Oxides for the first time. I tried a smooching technique where you add your ink to a piece of plastic foil and spritz it with water. After that, you press the plastic onto your paper and smooch it around to get a good blend of colors. You can either dry the paper with a heat tool or let it air-dry. I prefer air-drying whenever possible.
The cat comes from the stamp set "NOM NOM KITTIES" by Mama Elephant and was colored with Copic Markers and cut out by hand. I then heat embossed my sentiment and glued everything together using foam tape. The foam tape was especially handy to keep the gold twine in place. To add a bit more gold, I splattered some sequins and glued them in place with glossy accents.
Material
Papier: Aquarellpapier, SU! "petrol", schwarzes Tonpapier
Tinte & Farben: Ranger Distress Oxide Ink "peacock feathers", "salty ocean", "broken china", Versamark, Copic Marker
Stempel: Mama Elephant "NOM NOM KITTIES", lawn fawn "milo's ABCs"
Stanzen: –
Sonstiges: Falzbein, Fiskars Schneidbrett, MISTI, SU! Embossing Buddy, SU! Stampin' Dimensionals, Hero Arts Embossingpulver "white", goldene Pailletten, Goldfaden SU!, Papierschere, Ranger Glossy Accents, Plastikfolie, Heißluftföhn