please scroll down for english version :)
Na endlich. Die Aki zeigt wieder was vom Werkeltisch, deswegen seid ihr schließlich fast alle da. ;)
Heute habe ich die Glückwunschkarte für meinen Vater im Gepäck; sie ist relativ spontan entstanden, und die Inspiration habe ich mir eindeutig von Sonja geholt. Das am Ende sogar der Text der gleich wurde, war so nicht beabsichtigt – es sollte ein klassisches "happy birthday" werden, aber – Drama in drei Akten! – die vorhandenen waren alle entweder zu groß oder zu klein. Meh!
Ich hoffe, Sonja nimmt mir das "abkupfern" nicht übel! :eek: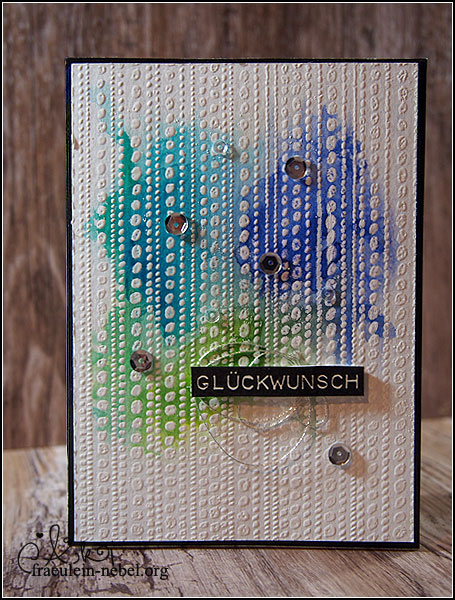 Alsou.
Der Hintergrundstempel wurde mit VersaMark gestempelt und weiß embosst.
Dann habe ich drei Farben Distress Ink mit einem Schwämmchen auf mein Papier gebracht und nur sporadisch verblendet. Um den Wasserfarbeffekt zu erzeugen, habe ich mit einer kleinen Sprühflasche Wasser.. gesprayed, logisch, und die Farben vermischen sich. :eek: Ihr wisst, DistressInk ist genau dafür gemacht worden. Für das gewisse Extra habe ich nicht simples klares Wasser genommen, sondern welches mit Perfect Pearls drin, also glitzern meine Farbflächen ein bisschen.
Die Farbe über dem weißen Embossingpuder lässt sich mit einem Tuch super abnehmen und wird wieder strahlend weiß – schöner Kontrast, besonders bei dem dunklen Blau.
Mein Text ist erst in schwarz gestempelt und dann, weil ich den auch ein wenig glänzend haben wollte, mit transparentem Embossingpulver embosst. Außerdem verwischt so die Tinte nicht mehr – das schaffe ich gerade bei VersaFine immer wieder, weil die Tinte so langsam trocknet. :/
Bisschen Silberfaden, paar Pailletten dazu – fertig. Die eigentliche Karte war mir in weiß zu fade, deswegen habe ich mit schwarzer Tinte geschummelt; einfach über die Papierränder wischen, und plötzlich ist die Basis schwarz. Schöner Trick, wenn man keinen schwarzen Cardstock da hat oder keine rein-schwarze Karte haben will.
___________________________________________
Finally. Aki is back and she's showing you stuff right from the craftroom – I guess that's why most of you come here, anyway. ;)
Today I want to show you the card I made for my father's birthday. I got my inspiration from Sonja; I hope she does not mind the outcome, because my card is kinda similar to hers. Even the sentiment – "Glückwunsch" – is the same! D: I wanted to use a simple "happy birthday" first, but – as most of you stampers might know – the stamps you have are never those you need right this instant. Meh!
Okay, first step was embossing my background; I used VersaMark Ink and some white embossing poweder for that.
After my paper was cool again, I applied three colors of Distress Ink, spending not too much time on blending. DistressInk reacts with water and I wanted to create a watercolor effect on this card – so I used a mini spray bottle to apply some water mixed with Perfect Pearls. My colors are spaaaarkly now~
To clean off the color of the embossed areas, I used a paper towel.
For the sentiment, I used VersaFine ink and some clear embossing powder. On the one hand I wanted to mimic the sparkly effects of my watercolor – and on the other hand, most of the time I just smudge my VersaFine ink, because it dries so slowly, so embossing it prevented that.
Some twine and some sequins to finish the project, and some more black ink to fake a black card base. A normal white one looked way too boring, so I grabbed my inkpad and covered the edges of my paper with color. Yay for this trick, since I did not have any black cardstock on hand. :)
Material
Papier: Ranger Watercolor Cardstock, Neenah "solar white"
Tinte & Farben: Versamark Ink, Versafine "onyx black", Ranger Distress Ink "blueprint sketch", "mermaid lagoon", "twisted citron"
Stempel: Mias Stempelküche "gute Gedanken", Hero Arts "fresh cut pebble pattern"
Stanzen: –
Sonstiges: Falzbein, Fiskars Schneidbrett, Hero Arts Embossingpulver "white", "clear", Pinsel & Wasserglas, SU! Stampin' Dimensionals, SU! Heißluftföhn, Papierschere, PrettyPinkPosh Pailetten, Ranger Multi Medium "matte", Silberfaden, Ranger Mini InkBlendingTool, Ranger MiniMister, Perfect Pearls "pearl"