please scroll down for english version

Ich verpeile öfters mal Geburtstage. Noch öfter verpeile ich es aber, die vorbereiteten Karten einfach pünktlich wegzuschicken. Diese Geburtstagskarte hier war aber tatsächlich für einen.. komplett verpeilten. Schande über mich!
Und schaut mal auf diese Karte hier, ich benutze für diese Art von Karten anscheinend gerne Vögel.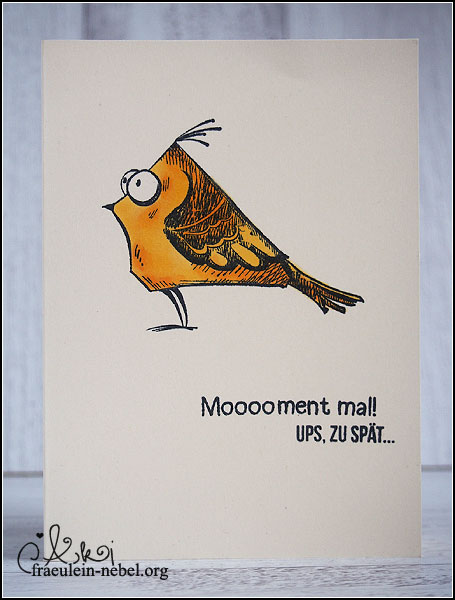 Es musste schnell gehen – das Set "crazy birds" von Tim Holtz hat zum Glück den perfekten Vogel für eine verspätete Geburtstagskarte: sieht er nicht aus, als wäre es ihm gerade siedend heiß eingefallen, dass da was wichtiges war?


Ein wenig Farbe hat er mit Hilfe von Copic Markern bekommen. Text drunter – fertig und ab in die Post mit der Karte.

english version
I tend to forget some birthdays. Even more often, I just forget to send my cards so they can arrive on time. But this card here, to be honest, I created it for a birthday that was completely wiped from my mind. (I'm so sorry!)
Okay, I needed a quick card to send ASAP to the recipient. Luckily, the "crazy birds" stamp set by Tim Holtz has the perfect little image for these type of cards: doesn't he look like something just struck his mind?


I used some Copic Marker to add color to the bird and stamped a small sentiment (it translates to "wait a second – oops, too late!") underneath him.
Material
Papier: Neenah "solar white"
Tinte & Farben: Memento "tuxedo black", Copic Marker
Stempel: Tim Holtz "crazy birds", Create a Smile "aus dem Hut gezaubert", "Hey Quatschkopf"
Stanzen: –
Sonstiges: Falzbein, Fiskars Schneidbrett, MISTI
Vielleicht gefällt dir noch einer dieser Artikel?