please scroll down for english version

Jemand wünsche sich für jemanden eine Babykarte. Niedlich soll's werden, eigentlich bitte auch nicht geschlechterspezifisch, mach du mal, bisschen grün und gelb.
Meine Wahl für's Hauptmotiv fiel auf die "page huggers" von Mama Elephant. Die Tiere sind zucker pur, haben eine tolle Größe und – Schmankerl! – können gegebenenfalls etwas in den Pfoten halten.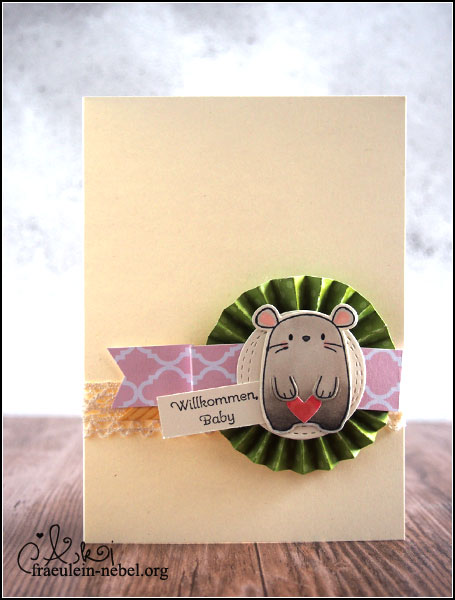 Ich gebe zu, "nicht geschlechterspefizisch" habe ich hier nicht ganz geschafft. Obwohl, die Karte soll für einen Jungen sein – ist es da geschlechterspezifisch, wenn doch etwas rosa reinkommt? Schwierige Sache, jedenfalls, nur grün und gelb sah mir zu fad und zu gewollt aus – das rosa Papier passte gut. Ich werde die Karte nochmal werkeln. Mit blau, weil ich kann, und wahrscheinlich noch mit mehreren Grüntönen und eventuell orange.
Was sind eure Lieblingsfarben, wenn es um Babykarten geht, die möglichst gender neutral sein sollen?
Das Mäuschen habe ich mit Copic-verträglicher Tinte gestempelt und mit den Alkoholmarkern coloriert. Flott durch die Big Shot gekurbelt, fertig. Die Rosette habe ich aus einem langen Streifen gefaltet und mit Heißkleber zusammengeklebt (das erste Mal ohne Finger verbrennen!).
Stoffband und ein paar Papierstreifen unter die Rosette, Textstempel dazu – fertig. Der eine Teil des rosafarbenen Banners ist leider auf dem Foto etwas verrutscht, "in echt" habe ich das schon wieder gerade gerückt.

english version
Someone asked me to create a baby card. "Make it cute, gender neutral, I dunno, some greens, and yellows?". Well, okay – here we go.
I used an image of the Mama Elephant "page huggers" stamp set. The images are so darn cute, nice size for a centerpiece and they can hold something in their paws if you'd like.
To be honest – this card is not gender neutral. Plain green and yellow looked boring and the piece of rosy paper just sneaked in the mix. The card will be for a baby boy; is it gender specific then to use pink? I don't know. But I will recreate the card with some blues and one with more shades of green, maybe some orange.
What are your favorite colors when it comes to gender neutral baby cards?
I colored the mouse with Copic Markers and die cut it with the Big Shot. For the rosette, I used a long strip of paper, folded it accordion style and glued it with my hot glue gun. (And for the first time ever, I did not burn my fingers in the process!)
To add some more color and details, I used some scraps of colored cardstock and some old ribbon. One of the ribbons looks a bit crooked in the picture, but I adjusted that part after taking the photo.

Material
Papier: SU! "vanille pur", "safrangelb", Musterpapier Aldi Süd (?), DSP SU!
Tinte & Farben: Memento "tuxedo black", Copic Marker CIAO
Stempel: Mama Elephant "page huggers", SU! "Perfekte Pärchen"
Stanzen: Mama Elephant "page huggers creative cuts", Die-namics "Wonky Stitched Circle STAX"
Sonstiges: Falzbein, Fiskars Schneidbrett, Acrylblock, SU! Stampin' Dimensionals, dm Paradies-Kleberoller, Papierschere, Sizzix Big Shot, SU! Falzbrett, Ranger Glossy Accents, Spitzenband Action, Heißkleber, Heißklebepistole
Vielleicht gefällt dir noch einer dieser Artikel?