please scroll down for english version

Ihr wollt nicht wissen, wie lange diese Karte in Einzelteilen auf meinem Tisch lag.
Ungefähr im.. November, genau, Anfang November, kurz vor meinem Geburtstag hat Alison von "The Alleyway Stamps" mitgeteilt, dass sie ihren Shop schließt und damit eben auch die Produktion ihrer bekloppt-genialen Stempel einstellt.
Was tut Aki? Genau. Schnell zum Stempelshop ihres Vertrauens (ein fröhliches Winken in die Stempelküche) und die Lieblingssets gekauft. Von Alison hatte ich nämlich genau null Sets in meinem Fundus, aber drei auf der "nähere Auswahl"-Liste. Und wenn's die bald nicht mehr geben soll.. man kennt das. Auf, kaufen!
So durften die Vögel vom "bird brain" bei mir einziehen..
Ist das nicht der dollste Glotzevogel ever? <3 Das ganze Set besteht aus solchen Vögeln, ich bin so verknallt.

Und der Spruch dazu, der passt wie Faust auf Auge, oder?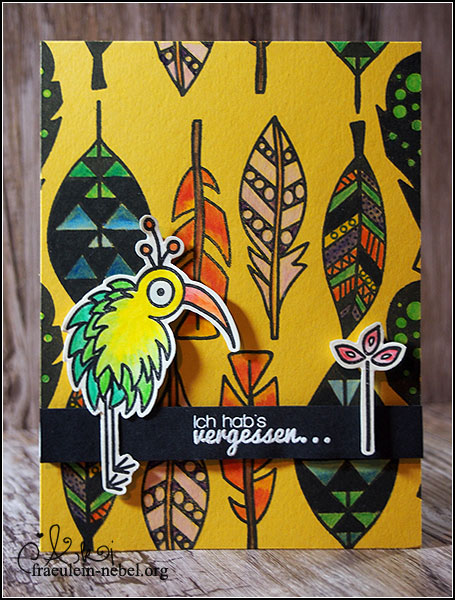 So. Diverse Federn wurden auf einem grooooßen Acrylblock nebeneinander positioniert und dann gestempelt. Spart Zeit und geht schneller, als jede Feder einzeln zu stempeln. Hat für mich den Nachteil, dass mir Lücken im Design erst später auffallen; wenn ich die Karte nochmal mache, setze ich die mittlere Reihe Federn weiter nach oben.
Federn und Vogel habe ich mit Buntstiften von Faber Castell coloriert. Die Stifte sind wasservermalbar, mag ich sehr!
Schnell ein Textchen dazu embosst, aufgeklebt und fertig – hat ja nur acht Wochen gedauert. Die Karte war im Kopf fertig, der Geist willig und das Fleisch schwach – ich war nämlich einfach zu faul!, den Heißluftföhn vom Regal zu holen. Schande über mich! Kennt das noch wer?

___________________________________________
You don't want to know how long that card sat on my desk. Ages, I tell you.
In november 2015, Alison from The Alleyway Stamps announced that she had to close her shop and stop producing her crazy good stamps. So I hurried to my favorite stamping shop (shout out to Mias Stempelküche) to buy all my favorite sets. Until then, I didn't own any of Alison's stamps but I had like three favorites in my mind.
Thats how the set called "bird brain" came to my home.


Isn't this the best staring bird ever? I just love it and the set has a lot more of these birds. The sentiment can be translated to "it slipped my mind" or "I forgot about it!" – fits perfectly, doesn't it?
I stamped the background feathers all in one go by mounting them on a big acrylic block. Saves a ton of time to stamp all at once! I just did not see the big blank space in my design – if I would re-do this card, I might stamp the second row of feathers a bit higher..
The images are colored with colored pencils from Faber Castell. I like these pencils because you can do a sort of watercoloring with it.
I embossed the sentiment and glued everything in place with 3D foam and dry adhesive – done! Just took me about eight weeks because I was too lazy to get my heat gun from the upper shelves. The card was finished in my head, but.. well.
Shame on me!

But maybe you know that feeling – being to lazy to finish a card.
Material
Papier: SU! "honiggelb", "chili", schwarzes Papier NoName, Neenah "solar white"
Tinte & Farben: Memento "tuxedo black", Memento Dual Marker "tuxedo black", Faber Castell Buntstifte, Versamark Ink
Stempel: The Alleyway Stamps "bird brain", "tickle me happy", Create A Smile "Hey Quatschkopf"
Stanzen: –
Sonstiges: Falzbein, Fiskars Schneidbrett, dm Paradies Kleberoller, Papierschere, Hero Arts Embossingpulver "white", Pinsel & Wasserglas, SU! Stampin' Dimensionals, SU! Heißluftföhn
Vielleicht gefällt dir noch einer dieser Artikel?