please scroll down for english version

Eine Karte mit Material aus der Restekiste – eine Restekarte sozusagen. Wenn ich mich richtig erinnere, ist das Ding 4×4 Inch groß.
Gestempelt habe ich mit Versafine, ausgemalt habe ich die schicken geometrischen Muster dann mit den Aquarelle-Stiften von Faber-Castell. Versafine deshalb, weil ich über meine Buntstiftkritzeleien gerne noch mit einem Wassertankpinsel drübergehe, um es ein wenig glatter aussehen zu lassen – und die Tinte verträgt sich gut mit Wasser.

Was ich mit der Restekarte mache, weiß ich noch nicht genau – solche kleinen Karten finde ich süß, aber nutzen tue ich sie kaum. :3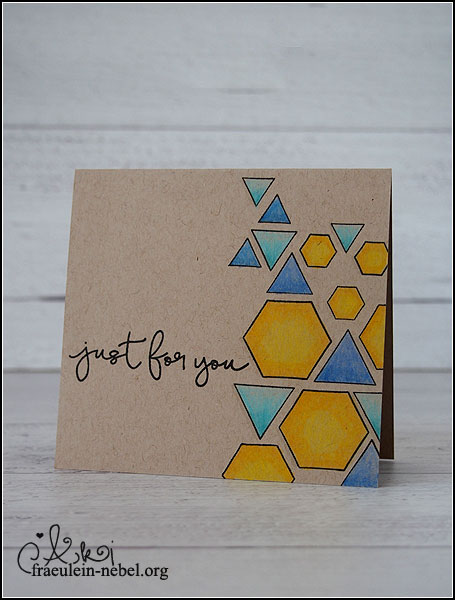 english version
I created a small card out of scrap pieces today – I think it measures 4×4 inches?
The images were stamped with Versafine ink and coloured with coloured pencils from Faber-Castell. I like to use Versafine with my coloured pencils because I always add some water over the colour to smooth it out. Versafine works great for that, it won't smear since it is oil based.
I really like these small cards, because they are cute and great for using scrap pieces of cardstock. But uhm.. I don't really use them – do you? :3
Material
Papier: SU! "savanne"
Tinte & Farben: Versafine "onyx black", Faber-Castell Art Grip Aquarelle
Stempel: SSS "perfect shapes", Hero Arts "just for you"
Stanzen: –
Sonstiges: Falzbein, Fiskars Schneidbrett, Acrylblock, Wassertankpinsel
Vielleicht gefällt dir noch einer dieser Artikel?